Collection Management
X-ref's collection management system is suitable for all types of collections. The system is flexible and everything can be tailor-made to suite your organization.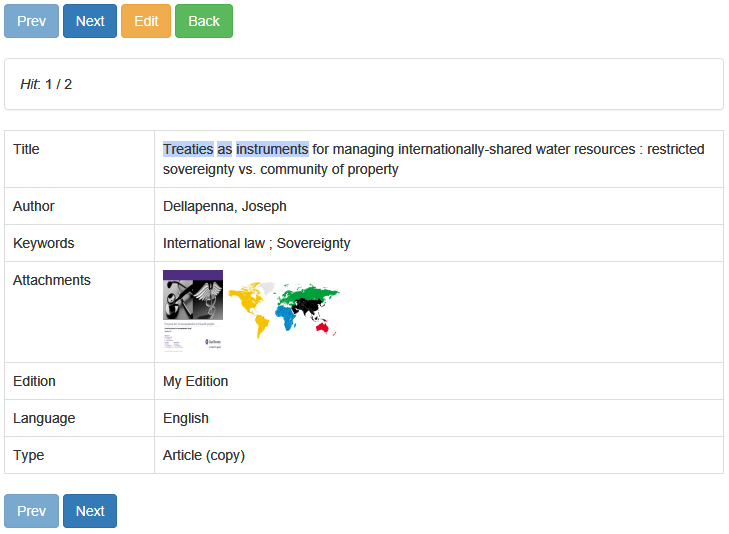 Collection management
API

A film describing X-ref's Collection API
X-ref has a powerful api which makes it possible to integrate X-ref with other systems. Via X-ref's api it is possible to search, edit, create and delete collection items.

Expose your item collection via API
The system administrator can limit the authority for the api user so that the api user only can edit/delete collection items that the user (or the user's group) has created. The system administrator can also, for security reasons, limit the number of possible calls per time unit.
Item fields administration
X-ref's collection management system stores information in a structure you choose. You decide the names of your fields and which features should be associated with the fields.
Administrative interface to your collection management system
The system administrator can assign different properties to an item field, a field can for instance be a number field or a date field. The system administrator can apply different controls prior to a collection item being saved; fields can be mandatory, fields can have a filter specifying exactly how the information should be structured, fields can have duplicate control etc.
Views
It is often desirable to search and present catalogue items differently depending on the type of item. In X-ref it is therefore possible to divide your item collection catalogue into subsections. These subsections are in X-ref called views. X-ref's view concept also makes it possible for the system administrator to decide which collection items and fields should be accessible for the different user groups.

A film describing X-ref's view concept.
Search functionality
X-ref's collection management system stores your information in a structured way which makes it possible to execute efficient searches. Searching for catalogue entries is done either by structured search, free text search, index search or searching via CCL (Common Command Language). Right and left truncated searching, "wildcard" searching and "proximity" searching is possible. Users can combine and sort search results. Collection items all have a unique id and an item's creation date and date of last update and the user that created/updated is automatically stored and is information that is searchable.
Log
All changes made to a collection item can be logged so that the system administrator can see who has changed which fields at what time.
Notifications
It is possible for users to receive notifications when new collection items, of interest to the user, are added to the catalogue. The system administrator manages the profiles which are the basis for the notifications.

Notifications administration
It is also possible to send emails according to a schedule based on a date column in a Google spreadsheet. If your Google spreadsheet has a column of email addresses and a column of dates it is possible to automatically send emails to the specified email addresses on the specified dates.
Emails are configured using a template.

Send emails automatically from a Google spreadsheet
Digital assets
X-ref handles your digital assets. You can easily upload digital media files; images, pdfs, sound files, video etc. to the collection management system where they can be shared with other authorized users.

A film describing X-ref's digital asset management concept
Uploading files and attaching them to an item is done swiftly by 'drag and drop', several files at the time. To each X-ref item it is possible to attach one or several media files.

Metadata handling and thumbnails
CMS - Web publishing system
X-ref has an integrated web publishing system for managing your collection's public interface. The public interface guides your web visitors, via search menus, help texts and links, to the information they are seeking.
Indexing engine
X-ref's proprietary indexing engine is the base of the collection. X-ref can import and index data of several formats. The indexed data is stored in a structured way which makes it possible to execute efficient queries.

Your collection's indexing engine
Further reading: Wikipedia's definition of API